Visit us in the Exhibit Hall in Booth 20!
FYE 2020 Exhibit Hall
Friday, February 21, 7 p.m. – 8:30 p.m. 
Saturday, February 22, 7:30 a.m. – 11 a.m., 1 p.m. – 5 p.m.
Sunday, February 23, 7:30 a.m. – 12 p.m.
Visit Macmillan's booth (#20) to explore our diverse selection of books that are perfectly suited for First-Year Experience and Common Reading programs!
Saturday, February 22
Join us for Macmillan's First-Year Experience Author Lunch!
12:15 p.m. – 1:45 p.m.


Thurgood Marshall Ballroom West & South

Lunch and author panel, with a book signing to follow

Jonathan Safran Foer is that author of We Are the Weather. He is also the author of the novels Everything Is Illuminated, Extremely Loud and Incredibly Close, and Here I Am, and of the nonfiction book Eating Animals. His work has received numerous awards and has been translated into thirty-six languages. He lives in Brooklyn, New York.
Carol Anderson is the author of One Person, No Vote. She is the Charles Howard Candler Professor and Chair of African American Studies at Emory University. She is the author of many other books, including White Rage and One Person, No Vote. She lives in Atlanta, Georgia.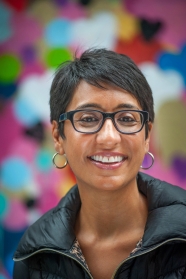 Recipient of Oprah Winfrey's first Chutzpah Award for boldness, Irshad Manji is the author of Don't Label Me. She is the founder of Moral Courage College, which teaches people how to do the right thing in the face of fear. She is also the Director for Courage, Curiosity, and Character at Let Grow, a nonprofit promoting independence and resilience in kids. A prize-winning professor, Manji currently lectures with Oxford University's Initiative for Global Ethics and Human Rights. She lives in New York.

Bill McKibben is the author of Falter. He is the founder of the environmental organization 350.org and was among the first to have warned of the dangers of global warming. He is the Schumann Distinguished Scholar in Environmental Studies at Middlebury College, and the winner of the Gandhi Prize, the Thomas Merton Prize, and the Right Livelihood Prize. He is the author of fifteen books, including the bestsellers The End of Nature, Eaarth, and Deep Economy. He lives in Vermont.
Join us for Dinner with Warren Berger!
7:00 p.m.
Thurgood Marshall Ballroom West & South
Dinner and author panel, with a book signing to follow
Warren Berger an expert on design thinking and innovation, is the author of The Book of Beautiful Questions and A More Beautiful Question—both published by Bloomsbury. Berger also writes for Fast Company, Harvard Business Review, and was a longtime contributing editor at Wired magazine. He has appeared on NBC's Today Show, ABC World News, many times on CNN, and as a frequently-used expert source on NPR's All Things Considered. He lives in New York. 
PLUS—don't miss our Twitter Sweepstakes!
Enter to win signed books from each of our authors who will be speaking at FYE 2020! To enter, simply:
Follow @macmillanreads on Twitter
Retweet our sweepstakes tweet (see below) with the following tags and hashtags: "#FYE2020 #sweepstakes @macmillanreads"
For a bonus entry, follow us on Instagram (@macmillanreads)
Macmillan's FYE 2020 Sweepstakes will be open from Friday, February 21 at 5:30 p.m. (EST), until Monday, February 24 at 11:59 p.m. (EST). Please see below for the complete rules.
Say hello!
Post to our Facebook wall